this is a game changer. the ultimate 1 to 1 marketing tool.
Have a rich database of prospects or existing customers? Let us help you impress them with a personalized video, customized with their name, interests and a special invitation to attend, buy or visit your organization.
With this proprietary technology, if you have 100 people in your database or 1,000,000, we can send out a personalized video to each one.  Yes, 1,000,000 different videos is possible.
In addition to PUSHING out videos to your database, we can interface with a web form on your site for potential customers to PULL a custom video after answering a few questions. 
Check out this example of a PUSH campaign from Cabrini College in suburban Philadelphia. These videos provided a tremendous boost to their traditional acceptance letters.  Student response was outstanding and it led them to repeat the program again with the next class.
Looking to get attention?
If you're a college or university looking to attract applicants to your school, here's a great example of how to NOT get the attention of a 17 year old  - DIRECT MAIL.  The photo to the right represents just a month and a half 's worth of mail that arrived at this Pennsylvania high school junior's home.   Does it make sense to pour so much effort into sending postcards, letters and flyers to a generation who has never sent a letter in their lives?  When it comes to mail in 2023, if it's not from Amazon, they're not interested.   And text emails, arriving by the hundreds, are only marginally better.
So rather than try to redesign that next postcard campaign to win over the digital generation, consider a personalized video message.  A new platform with a lower cost per thousand than direct mail and a MUCH higher ROI.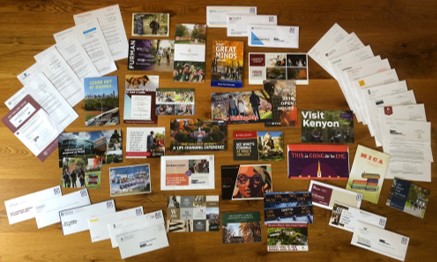 Meet the experts.
Bill Haley and his team at Allied Pixel are doing amazing things with personalized video.  Click through to see more inspiring uses for this engaging platform.
Learn more about personalized video. Let's set up a call to explore how we can deploy this solution for your business.